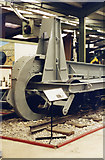 Museum of Army Transport, Beverley: German railroad-plough
© Copyright Ben Brooksbank and
licensed for reuse under this
Creative Commons Licence.
The question of what happened to the railway-wrecking hook which used to be at the now-defunct Museum of Army Transport at Beverley in East Yorkshire sometimes arises in various places.
Some time ago I e-mailed the National Army Museum to ask if they knew where it had got to, and they kindly got back to me with the following information:
When the Museum of Army Transport closed, a large proportion of the vehicles were transferred to the National Army Museum, including the railway wrecker. This vehicle (NAM. 1998-09-89), a Pline C24, was made in Germany in 1943. It was used in Italy and indeed captured there by the British Army.

Since the move of the vehicles, some have been transferred to other institutions who have much larger storage facilities for these types of vehicles. The railway wrecker was transferred to the Ministry of Defence Railway Service in Marchwood and it is unlikely to be on public display.
A 31 March 2008 report filed with the Charity Commission gives some details of what the National Army Museum did with former Museum of Army Transport (and other) exhibits, and includes the hook:
| | | | |
| --- | --- | --- | --- |
| Date of disposal | Accession number | Object | Result of disposal |
| 25 Feb 2008 | 1998-09-89 | Railway wrecker, Pline C24 | Transferred |
Does anyone have a better photo of the Beverley hook which I could include on this website? I was a regular visitor to the Museum of Army Transport when I lived nearby, but as ever with things which seem so familiar, I didn't take any photos and then one day it was gone.